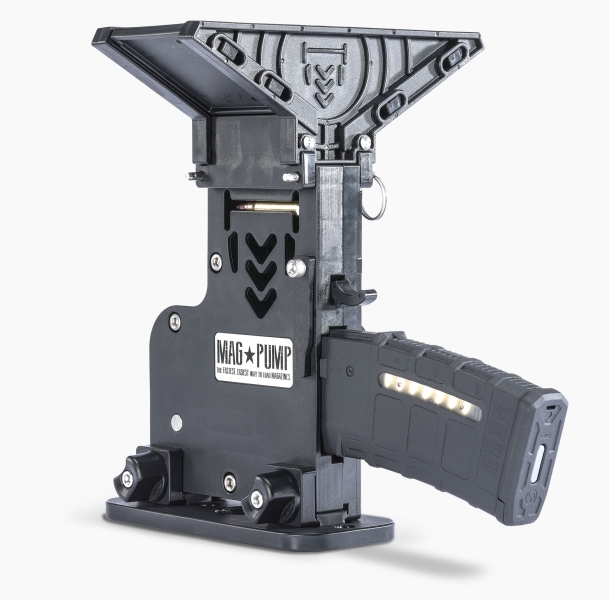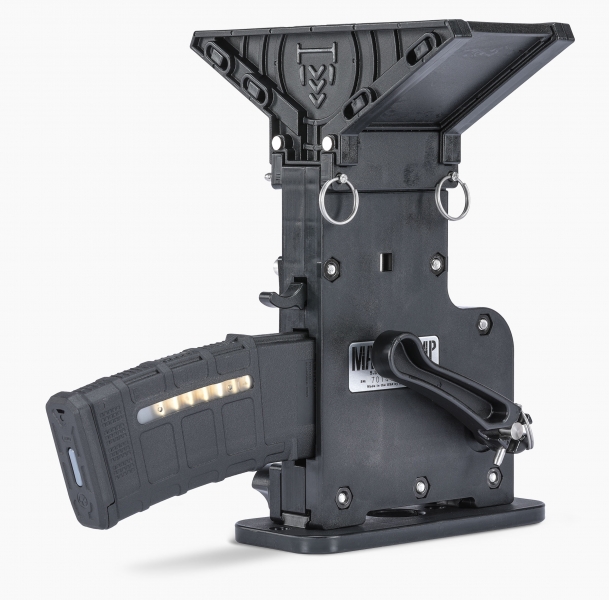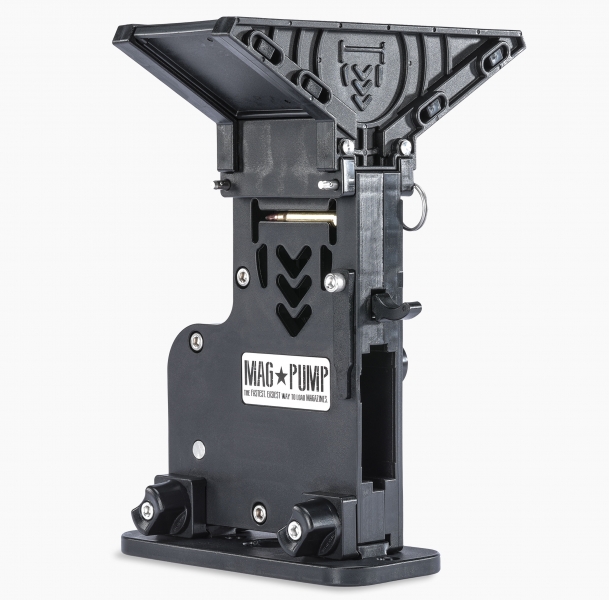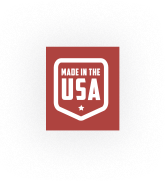 AR-15 Magazine Loader
This hopper-fed, loose-ammo loader is designed to eliminate hand fatigue and reduce magazine loading time by more than 50 percent. Simply load your ammo in the 90-round capacity hopper and let MagPump do the rest. The pump-action lever self-sorts ammunition in either direction, and loads up to 60 rounds in less than 60 seconds. Compatible with all Mil-Spec AR-15 magazines, and .223 Rem, 5.56 NATO and .300 Blackout rounds.
Loads 30 Rounds in Less Than 30 Seconds
Features
Hopper fed, loose ammo loader for .223 Rem, 5.56 NATO and .300 Blackout rounds
Reduces magazine loading time by more than 50%
This standard model is constructed of lightweight and durable polymer
Mounts to any Weaver or Picatinny rail
Compatible with all Mil-Spec AR-15 magazines
Built-in safeties prevent damage to rounds when loading and stop loading when magazine is full
Orient ammunition in either direction
Eliminates hand fatigue caused from loading
Requires much less physical effort and strength to fully load magazines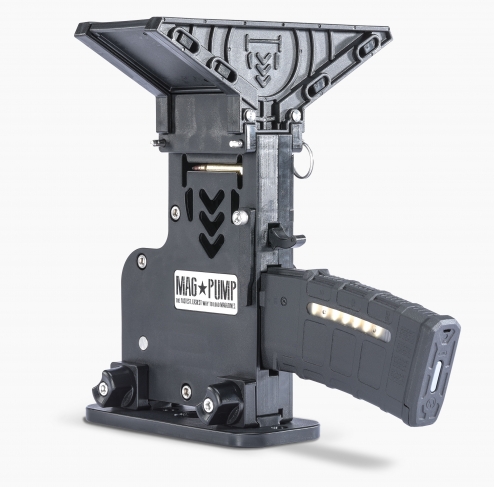 No Questions Asked - Lifetime Transferable Warranty
"This is a better and faster way. If you want to practice loading magazines do it on your own time. If you are a serious shooter, the MagPump is an absolute necessity."
Viking Tactics, Inc Founder & CEO | Retired Sgt. Major - U.S. Army | Tactical Trainer
Reviews
I HAVE TRYED ALL THE LOADERS THAT MAG PUMP OFFERS AND THERE IS NOTHER FASTER OR EASIER THEN THE MAG PUMP.
We rent out machine guns and took one of these to the OFASTS full auto shoot this year. GREAT time and thumb saver. Ran it hard several hours, only problem we had was a jam up due to loading in the dark and an ejected case landed in the hopper. (it got pretty wild in our tent). Videos on Range Toys Facebook page.
I absolutely hate loading rounds because it hurts my thumbs. Not only does this save my thumbs but it saves me a ton of time!
One of the handiest products to have on the range!
Works perfectly as advertised. Saves a lot of time and no sore or pinched thumbs. Would definitely recommend to any that enjoys shooting. A must have range bag item.
I bought the 9mm and found it incredibly helpful so I added this one to the family too. I am a Hexmag guy but have yet to find a mag that it did not function with. Best invention ever to get those last five rounds into a mag. Follow the direction and it truly is 30 seconds a mag.
Save your thumbs!! Simple
Got one when they first came out. Used 2 years in a row at an NFA Review event doing gun Demos. Loaded hundreds upon hundreds of mags and they just work. Simple and no sore thumbs after! Highly recommend
I highly recommend these after my first trip to the range! Made for a much more enjoyable shoot!
Long time timing!! Crazy how easy and quickly it works. I was originally concerned how it would hold up in real-world usage but it has survived well and keeps on ticking. Well worth the money!! Going to buy the 9mm version next.
easiest loader on the market
I was introduced to the Mag Pump in 2018, I can honestly say if you follow the directions from the manufacturer this is the easiest auto loader on the market.
Add new review